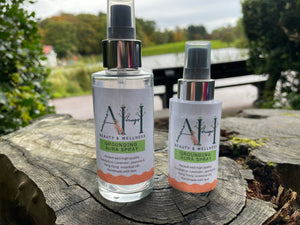 What does it do?
This has a deep, musk- earthy-sweet aroma scent, perfect for grounding those busy minds, especially when things feel out of place or up in the air. It consists of many of the earthy essential oils, including Patchouli, Vetiver, Amyris Sandalwood, all of which help to balance the mind and body connection. 
Suitable for Vegans.  
Tina's Tips: I like to use this before I sit down for lunch, especially on a hectic day, or at the end of my day to balance my breath back into my body. I find that this spray helps to release those pent-up stresses that can build up throughout the day. A few of my clients use it on their clothing too for a more lasting effect. This spray is also great to use during meditation. One of my bestselling formulas!
How to Use
Find a comfortable space to sit or lie down. Spray 1-2 pumps (or more as desired) around you and your surroundings. Then, if possible, close your eyes and breathe deeply. For best results, continue doing breathwork for between 1 to 5 minutes. 
Can also be used as a room spray.

 

Do not contain artificial emulsifiers  i.e. polysorbates. Natural oil separation will occur as a result, so PLEASE SHAKE WELL BEFORE USE. 
Key Ingredients
Patchouli, Sandalwood, Geranium, Vetiver, Clary Sage, Amyris
INGREDIENTS
Alcohol, Isopropyl Myristate, Pogostemon Cablin Leaf Oil (Patchouli Oil), Vetiveria Zizanoides Root Oil (Vetiver Oil), Amyris Balsamifera Bark Oil (Amyris Sandalwood Oil), Salvia Sclarea Oil (Clary Sage Oil), Pelargonium Graveolens Flower Oil (Geranium Oil), *Citronellol, *Linalool, *Geraniol, *Limonene, *Citral.
*Naturally occurring in essential oils **Organic
A perfect find !
Hypnotised by how wonderful Tina's grounding spray is ! Skoosh & breathe in deeply & you're already in a wonderful relaxed frame of mind. Thankyou so much for producing this product Tina. Definitely be purchasing more...x
Thank you so much for your kind words. So happy that you're enjoying the grounding spray as much as we do. It's so relaxing to use after a busy day, it gives us that feeling of being hugged. Thanks again with much love & hugs x
Favourite
This is definitely my favourite spray of Tina's, quick spritz of my bedroom every night before bed and I'm sleeping like a log!..apparently we're drawn to certain fragrances and this is the one for me...I think I'd actually wear it as perfume!!
So happy you like this spray. I use it for meditation. It just helps to calm the mind. Thank you x
Helps calm me down!
I keep a bottle of this spray on my desk at work, and without fail every time someone comes into my room, they will ask me what the lovely smell is! (& next they ask where can they buy it!!). It's a unique and indescribable scent. 'Grounding' is the perfect name for it, as spraying it really helps calm me down if I feel overwhelmed.
Thank you so much for your review. I'm so delighted that it's helping you.