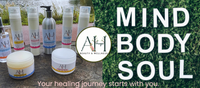 AWESOME HUGS PRODUCTS
PLANT-BASED . GENTLE . CRUELTY FREE - FULL OF HUGS
At Awesome Hugs we believe it is important for you to know what ingredients are in the products you apply to your skin.  That way you can make the best decision for your skin type.  All Awesome Hugs skincare products are made with ethically sourced high quality natural ingredients.  
Awesome Hugs was created by Tina Simpson, who understands the struggles of living with sensitive skin and the importance of being able to trust in the  products you use. 
If you have delicate, sensitive skin, or suffering from skin conditions like psoriasis, eczema rosacea or hives, and have been scouringthe earth to find a suitable skincare product then look no further - 'Awesome Hugs' is here to help.
All Awesome Hugs products are lovingly handmade by Tina.  
"For me, the best way to convey how much you care for someone is by giving them a hug. It creates a bond; a feeling of care, safety, love and trust.  It feels like home. I love all the ingredients that I use in my products.  I trust in the goodness of their properties.  I care about where the ingredients come from and that they are safe to use. I never lose sight of this during all stages of my creations. I hope you feel that extra care and love when you use my products.  The unique ingredient in all my formulas - Awesome Hugs!"

IMPORTANT PRODUCT FACTS
Contain natural Plant-Based & Ethically sourced ingredients.
Gentle & Calming-Soothing; ideal for hives, rosacea, psoriasis, eczema (most allergies) & acne prone skin.
NO SLS, Paraben, mineral oil or synthetic fragrance & colours.
Cruelty free. 
Gentle enough for Cancer patients, contain 1% or less of essential oils -gentle aroma.
Enriched with vitamins & minerals, skin-food to help delay ageing.
Vegan (apart from the Wonder Balm, contains Organic Beeswax)
Recyclable & compostable packaging.
All skincare products comply with UK Cosmetic Regulations &  have been tested for safety and stability by qualified and registered assessors. 
Handmade with love in Scotland.
Most of all, we are about the hugs; love, kindness and taking care of one another.
LOVE & KINDNESS - KEY TO A BALANCE & HAPPY LIFE!
LOVE & KINDNESS - KEY TO A BALANCE & HAPPY LIFE!