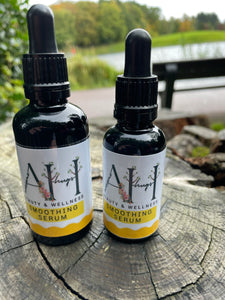 What does it do?
Non-greasy, oil-based serum that has plenty of smoothing and replenishing properties to help those fine lines and dry skin. Available in 30ml and 50ml sizes.
Suitable for Vegans.  
Tina's Tips:  I love using this serum on its own, as a night-time oil after my cleanse. It works so well while you are sleeping when your body is going through its detoxification process. My skin feels smoother in the morning.  I also love using it as a booster and primer – I recommend applying it at least half-an-hour before moisturising and/or applying makeup. 

How to Use
Apply 1-2 pumps onto the palm, then massage in upward sweeping motions onto clean, fresh skin. 
White Poppy Seed Oil – an easily absorbable oil rich in Vitamin E. A favourite for use in skin problem products such as for psoriasis and eczema. 
Argan Oil – known to help skin irritation and sun damage; also has great smoothing properties. 
Lime Seed Oil – easily absorbable by the skin & can help reduce irritation & itching.

Organic Borage Oil – great antioxidant. Can help restores damaged & wrinkled skin

Shea Butter Oil –  known to restore elasticity with powerful antioxidant properties. Rich in vitamins A, E & F.

Organic Thistle Oil – an excellent source of Essential Fatty Acids (omegas 3 and 6), can help to rebalance skin and reduce large pores.
Organic Black seed oil – great hydration & antioxidant properties

Vitamin E – antioxidant & helps the product longevity.
Organic Sea Buckthorn oil – gives the serum its golden colour. Contains many vitamins and minerals that can help cell generation and protect the skin. 
Essential oils: chosen for their anti-ageing and luxurious properties –
Frankincense, Carrot Seed, Jasmine
INGREDIENTS
Papaver Somniferum Seed Oil (White Poppy Seed Oil), Argania Spinosa Kernel Oil (Argan Oil), *Carthamus Tinctorius Seed Oil (Organic Thistle Oil), *Nigella Sativa Seed Oil (Organic Black Seed Oil), Isoamyl Laurate (Vegetable Emollient), Citrus Aurantifolia Seed Oil (Lime Seed Oil), *Borago Officinalis Seed Oil (Organic Borage Oil), Butyrospermum Parkii Oil (Shea Butter Oil), Tocopherol (Vitamin E), Isoamyl Cocoate (Vegetable Emollient), Boswellia Serrata Oil (Frankincense), *Hippophae Rhamnoides Fruit Extract (Organic Sea Buckthorn OIl), Daucus Carota Sativa Seed Oil (Carrot Seed), Prunus Amygdalus Dulcis Oil (Sweet Almond Oil), *Jasminum Officinale Flower Extract (Organic Jasmine Oil), *Helianthus Annuus Seed Oil (Organic Sunflower Oil), **Linalool, **Limonene, **Geraniol, *Rosmarinus Officinalis Leaf Extract (Rosemary)
*Naturally occurring in essential oils **Organic
Amazing products
I have only just began using awesome hugs, I have to say the serum is amazing my skin feels soft and glowing. Thank you Awesome hugs. Xx
Hi Cath, thank you for taking the time to leave us such a fantastic review! We're happy to hear that you loved using our products. They are made with love so we feel very blessed that they are received with love. Hope to hear from you again soon. Thank you again for your feedback, have a beautiful day. x
AMAZING!
I have used Awesome Hugs products for some time, they are kind, rejuvenating and smell incredible, this was my first time using the serum and as expected it did not disappoint! A must for any skincare regime! Thank you for 'THE GLOW'.
Amazing!
I have been using this smoothing serum for a few weeks now and I have to say that I love it! It not only smells amazing, but makes my my skin feel rejuvenated and soft. Thanks so much Awesome Hugs! xxx 😊
Thank you again for you kind words, Marianne. It really helps us to reach to others who needs our help. Hope you have a beautiful day x
Better than Kiehls or Estee Lauder night serum!
I have been trying out all the best/known brands for years! And this serum is really the best find! It makes your skin glowy and soft. Don't need to waste anymore money on expensive stuff that doesn't work!Amazing!
Miracle in a bottle (and no I'm not exaggerating)
After literal years of trying out different serums, this is the ONLY serum that cleared up my hormonal acne (on my upper cheeks) and reduced the scarring in the area. Honestly, I can't speak highly enough of this serum, it is evident that immense care has been taken in its formula as I have incredibly sensitive skin and so I have to be really careful otherwise I break out or have a reaction. This is the only serum that I have found that is gentle while still getting the job done, I use this in my morning and evening routines mixed in with my moisturiser. The smell of this serum is gentle and grounding, not at all overwhelming- I feel like I'm finally treating my skin with the care it deserves.