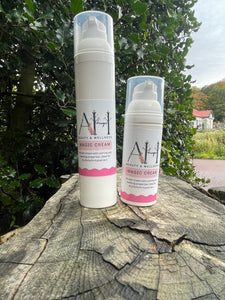 What does it do?
An all-purpose light & absorbable cream. Helps soothe and cool irritated skin on the face and body.  Favourite to those tackling with breakouts especially 'maskne'.

Suitable for Vegans.  
Tina's Tips: My clients call this light cream 'magic' because it helps them in so many different ways. I use it after waxing, on tired feet, on my breakouts, on midge/insect bites & whenever I have itchy or dry skin. I always make sure that I have some of this product close to hand. My clients have also reported that it's has helped them with ingrowing hairs too. 
How to Use
 

Massage onto any area of the face and body, as often as needed.
Best to use on clean skin.

Key Ingredients
Apricot Kernel Oil – an easily absorbable oil, often used for sensitive/irritated skin.
Organic Shea Butter – this luscious butter is produced by a women's cooperative in Ghana. It contains natural SPF, helps repair cellular degeneration and restores the skin's elasticity.
Organic Castor Oil – helps add shine to dull, tired & dry skin.
Calendula Oil & Organic Extract – from the same family as the marigold flower, this oil has many wonderful benefits. It's a great oil for wounds, and relieving rashes and eczema.

Organic Rosemary Extract - an age-old antioxidant & great for acne/irritation. Very soothing, can

help to reduce swelling and puffiness 

Vitamin E– antioxidant
Essential oils: chosen for soothing, calming and anti-itching properties –
Eucalyptus - can relieve itchiness.
Lavender - calming, soothing & synergist.
Tea Tree - great for purifying, has antiseptic properties. One of the safest essential oils. 
Peppermint – knows to soothes irritation/pain reliever. 
INGREDIENTS
Aqua (Spring Water), Prunus Armeniaca Kernel Oil (Apricot Kernel), Helianthus Annuus Seed Oil (Sunflower), **Butyrospermum Parkii Butter (Organic Shea Butter), Glycerin (Non-Gmo Rapeseed Oil), Sodium Stearoyl Lactylate (Food Grade Vegetable Emulsifier), **Ricinus Communis Seed Oil (Organic Castor Oil), Calendula Officinalis Flower Oil (Calendula oil), Cetearyl Alcohol (Vegetable Wax), Glyceryl Stearate (Non-Gmo Vegetable Emulsifier), Phenoxyethanol (Palm Free, Is Gluten-Free, Formaldehyde Free, Vegan And Biodegradable Preservative), Tocopherol (Vitamin E), Eucalyptus Globulus Leaf Oil (Eucalyptus oil), Lavandula Angustifolia Oil (Lavender oil), **Melaleuca Alternifolia Leaf Oil (Organic Tea Tree Oil), Mentha Piperita Oil (Peppermint Oil), Ethylhexylglycerin (Palm Free, Is Gluten-Free, Formaldehyde Free, Vegan And Biodegradable Preservative), *Linalool, *Limonene, *Geraniol.
*Naturally occurring in essential oils **Organic
Lovely texture on the skin
Absolutely love this cream it's a light and non greasy feeling on my skin. I've suffered from psoriasis for 36 years now and this is the first moisturiser I find brilliant on my skin. Will be definitely recommending this product. Thank you
Hi Pamela, Apologies for the late reply but wanted to thank you for taking the time to leave us such a wodnerful review! We're happy to hear that our product is giving you such benefits. They are made with love so we feel very blessed that they are received with love. Hope to hear from you again soon. Thank you again for your feedback, have a beautiful day. x
I bought the Magic Cream to help with eczema on my hands and back. The cream had a gorgeous smell, that is automatically soothing. I've been using it for a few weeks and my hands aren't as bad. The menthol in the cream helps take the itchy heat out of the eczema and the moisturising properties have kept on top of the dryness. I would definitely recommend to others with eczema and dry skin x
Thank you again for your generaous words. It really helps us to reach to others who needs our help. Hope you have a beautiful day, Angela x
Magic
I have been using the magic cream for a few month now on the keratosis pilaris (small red bumps) on the tops of my arms and they have completely disappeared! I also use it when I have a dermatitis flare up on my hands, it really helps to soothe and calm the itch. Great product, would definitely recommend.
Magical healing power!
Awesome Hugs Magic Cream seems to have magical healing powers! I highly recommend it, especially for anyone with sensitive skin and/or eczema, as it causes me no irritation (unlike lots of other products). The formula feels so lightweight it just melts into my skin, and I love the fresh and natural scent.
Thank you so much for your review. I'm so delighted that you are enjoying using it.