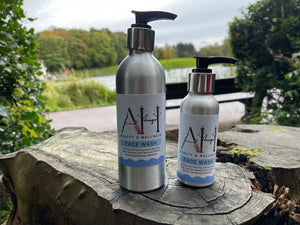 What does it do?
Imagine a gentle foam party for your skin – it cleanses without being a party pooper and stripping away your skin's natural moisture. Instead, it leaves your skin feeling as soft and silky as a marshmallow cloud, with a fresh and fabulous glow.
Oh, and it's vegan-friendly.
Origin story....
Alright, gather 'round, folks, it's story time!
Once upon a skincare adventure, there was Tina and her love for the Cleansing Balm. It made her skin happy but, she so missed that "squeaky clean" feeling you get from a good old foaming face wash.
The trouble was, every foamy wash Tina tried had a knack for making her allergies go bonkers and her face feel as tight as a drum. Turns out, it was all because of their high alkaline levels and the not-so-friendly ingredients like parabens, sodium lauryl sulfate (SLS), and sodium laureth sulfate (SLES). Those troublemakers were like the skincare villains we never asked for!
So, Tina put on her thinking cap and set out on a mission – a mission to create a face wash that'd be like a cozy hug for her skin. It needed to match her skin's pH level (a comfy 5.5) and be a tad friendlier in the ingredients department.
There were stumbles along the way, but Tina persisted, and she found the perfect formula.
But Tina didn't stop there; she wanted a superhero product. One that could clean, mask, soothe, and fight breakouts – and work from head to toe. That's right, no need to pack a whole suitcase full of products when she's jet-setting around (she hates the hassle of lugging around a skincare store while traveling, so this solved that headache). I mean, she's not asking for much, is she?
It wasn't easy, but then, like a plot twist in a good book, it happened – voilà! Winner winner, chicken dinner! Tina's Face Wash became her trusty sidekick, a skincare buddy she couldn't live without.
So there you have it, the origin story of our beloved Face Wash – a tale of foamy goodness, skincare struggles, and a triumphant ending that keeps your skin feeling happy and fresh.
How to Use
Apply it all over your face and neck, giving yourself a gentle spa-worthy massage for about 30-60 seconds. It's like a mini facial every day!
Rinse it off or use a warm cloth to wipe it away until it's all gone.
Follow up with your favourite moisturiser because your skin deserves a little extra love.
For deeper cleanse
Just slap it on your face neat, without any water, and let it chill for 10-15 minutes before washing it off.
Moisturise afterwards.
Key Ingredients:
Coconut and Palm Kernel Oil: These natural oils are like the dynamic duo of cleansing. They create a luxurious foam that gently cleanses and refreshes your skin, all while keeping it feeling happy and hydrated.
Aloe Vera: Ah, the soothing and calming magic of Aloe Vera. It's like a botanical hug for your skin, leaving it nourished and oh-so-serene.
EcoChic Conditioning Agent: This fancy ingredient is derived from chicory roots, and it's here to add a touch of luxury to your skin and hair. Think of it as a silky-smooth film that makes you feel like a million bucks.
Essential Oils: Get ready to be wowed by an energizing blend of essential oils that bring antibacterial and anti-inflammatory superpowers to the party. It's like a spa day for your senses!
So, let your skin join the foam party and come out feeling refreshed, silky smooth, and ready to take on the world!
Please remember, these statements are just for fun and information. If you've got serious skin concerns, always chat with a professional.
INGREDIENTS
Aqua, Mipa-Laureth Slfate (Very Mild Surfactant), Inulin (100% Natural Biodegradable Polymer From Chicory Root), Peg-10 Olive Glycerides (Biodegradable Lipid Restorer), Cocamidopropyl Betaine (Very Mild Surfactant From Coconut Oil), Hydroxypropyl Guar Hydroxypropyltrimonium Chloride (Guar Gum From Guar Beans), **Melaleuca Alternifolia Leaf Oil (Organic Tea Tree Essential oil), Glycerin (Non-Gmo Rapeseed Oil), Citrus Paradisi Peel Oil (Grapefruit Essential Oil), Salicylic Acid (Palm Free Preservative), **Citrus Limon Peel Oil (Organic Lemon Essential Oil), Coconut Acid, Lavandula Angustifolia Oil (Lavender Essential oil), Salvia Sclarea Oil (Clary Sage Essential Oil), Sodium Chloride, Rosmarinus Officinalis Leaf Oil (Rosemary Essential oil), Aloe Barbadensis Leaf Extract (Aloe Vera), Sorbic Acid (Palm Free Preservative), Eugenia Caryophyllus Bud Oil (Clove Bud Essential oil), Benzyl Alcohol, Ocimum Basilicum Oil (Sweet Basil Essential Oil), Lactic Acid(non GMO Maize non-dairy AHA), *Limonene, *Eugenol, *Linalool.
*Naturally occurring in essential oils **Organic
Love this!
At 42 I finally decided to stick to a skincare routine. Tina (pleaded with me to stop using wet wipes and) recommended the face wash along with the Smoothing Serum. I have been using it religiously every night for the last 2 weeks and my skin already feels/looks smoother and more hydrated. Love it!
Thank you so much for your kind words. So happy that you love the Face Wash & Smoothing Serum & they are making a difference. They are definitely kinder than those wet wipes. Sending lots of love & hugs on your skin journey. X
Best cleanser!
Tina has really upgraded my skin routine. I used to use wet wipes to clear my makeup and wonder why my skin was flaking, as it would get so dry! I take this cleanser everywhere with me know, leaves the skin feeling envigorated and clean without drying it out! My partner who used no skin care before loves it too! Thank you Tina
Really is awesome face wash.
I started using awesome hugs skincare during lockdown when my skin was really bad with breakouts and dull. I started using the face wash, cleanser/mask and magic cream and my skin has improved greatly. Its now glowing, absolutely love all the products.
Thank you for your kind words and am delighted to hear that you are getting awesome results using Awesome Hugs products. Hope they will continue to give you more benefits with more time using them as it has with other members of our Awesome Hugs community. Sending hugs to your day.
Clean with a capital C
This sits in the shower because we all use it, it actually suits the whole family's skin...my face feels clean without feeling stripped, it's gentle but does what it says on the tin!!
Thank you for your review. This is definately one that I can't do without. x
My favourite product.
I started using Tina's skincare products a couple of years ago to coincide with my monthly microdermabrasion facial at her salon. I've noticed a difference in the condition of my skin and would definitely recommend using Awesome Hugs wonderful range of products. The Face Wash is my favourite product. It's so easy to use, lathers easily, smells amazing and doesn't dry out my skin.
Thank you so much for your review. I'm so delighted that it's making a difference.